Dana Muller and Gary Steigerwalt
The husband-wife team has been performing the four-hand piano repertoire for over twenty-five years, creating programs that encompass the historical and stylistic range of the genre. They have performed extensively in the Northeast, Southeast and Southwest United States, as well as in Scotland, Argentina and Bolivia.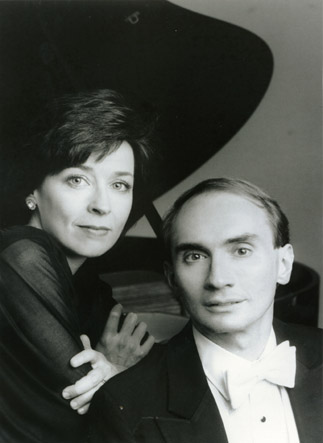 Muller and Steigerwalt perform regularly with Wistaria Chamber Music Society. They also have appeared as four-hand recitalists at the Beethoven Festival, Oyster Bay, Long Island, presenting the complete four-hand works of Beethoven, and at summer festivals such as the Bethlehem Musikfest (Pennsylvania), Music at Penn Alps (Maryland), and the Sevenars Festival and Musicorda Festival (Massachusetts). Orchestral appearances include the Pennsylvania Sinfonia (North American premiere of Jan Mul's Concerto for Piano Four-Hands and Chamber Orchestra), Orchestra New England, Mesquite (Texas) Symphony Orchestra, and the Pioneer Valley Symphony.
Their recording of four-hand works by early twentieth-century European composers (Centaur CD 2127) was hailed "an outstanding disc" by Fanfare. The disc includes Lucien Garban's transcription of La Valse by Maurice Ravel, Paul Hindemith's Sonata, the complete four-hand works of Alfredo Casella, and collections of shorter pieces by Georges Auric, Arnold Schönberg, and Ferrucio Busoni. Also released by Centaur are a disc of nineteenth-century Romantic compositions by Anton Rubinstein, Josef Rheinberger and Frederick Shepherd Converse (CRC 2390) and Volumes I (CRC 2272) and II (CRC 2305) of a series of compact discs devoted to the four-hand works of Franz Schubert. Excerpts from their two Schubert discs can be heard in the critically acclaimed movie Good Will Hunting.
In addition to performing recital programs, Muller and Steigerwalt appear at schools, universities and before music teachers' organizations, offering workshops, master classes and lecture-recitals on a variety of topics. For ten years they wrote the program notes and presented pre-concert lectures for the Musicorda Festival, an instruction and performance summer music program held on the campus of Mount Holyoke College.
Gary Steigerwalt has been on the music faculty at Mount Holyoke College since 1981. Dana Muller has both a DMA and a JD and is a licensed attorney in Arizona, Connecticut and Massachusetts.